Bro. Bobby Adams came to Berea Baptist Church in August of 2011 as pastor, from teaching Hebrew, Greek, and Bible courses at Antioch Baptist College and Seminary in Cincinnati, OH, since 2008 with his wife of nearly 33 years, Toni, a school teacher.  Together they have three children, Amber, Aaron, and Candace, and so far four grandchildren, Shauna, Adam, Aysen, and Ellie.
Conversion & Call
In 1975 at the age of 15, the Lord convicted and saved Bro. Bobby, and later at 17 years old called him into the Gospel ministry out of Liberty Baptist Church in Noxapater, MS. He received Scriptural baptism in 1977, about the time he graduated from Noxapater High School.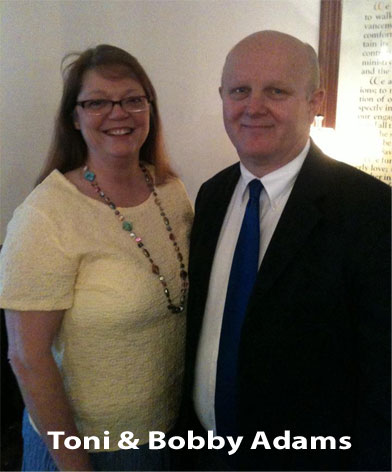 College & Marriage
Bro. Bobby attended Clarke College in Newton, MS from 1977-1979, and just before receiving his A.A. Degree in Bible he met and married Lea T. (Toni) Sloan.  Lea majored in Voice and minored in Piano while attending Clarke.  When several years had gone by, while serving as pastor, and raising three small children, they moved to Clinton, to attend Mississippi College and University where both received their B.A. Degrees in 1994.
Seminary Education
During the next several years, Bro. Bobby attended Wesley Biblical Seminary, and later Mid-America Baptist Theological Seminary, and Andersonville Baptist Theological Seminary where he finally finished both his M.Th. and a Th.D. in Bible with concentration in Biblical Languages.
He also took an online Biblical Hebrew course in association with Jerusalem University in Israel from the year 2006-2007 about the same time that his book was published, The Reintroductions of Textus Receptus Readings in the 26th Edition & Beyond of the Nestle/Aland Novum Testa-mentum-Graece.  While at Reedy's Chapel Baptist since 1998, tragedy struck, their son Aaron died suddenly.  In August of the following year, 2008 they moved to Cincinnati, Ohio and taught at Antioch for 3 years. Then in late July of 2011 Berea Baptist Church called Bro. Adams as pastor, so, they moved to Rives, TN.
Berea Baptist Church 
Bro. Bobby Adams has a lifetime of education and experience in helping people discover new life in Christ.  He has over 30 years worth of experience in the pastorates in MS, AR, and now TN, with all of them teaching not only the King James Bible but about its history and it's importance to the Christian's development spiritually.  Bro. Bobby has taught on the subject of the KJB in sermons, conferences, seminars, VBS, and in college.
Bro. Adams desires seeing Berea Baptist as an Independent church that is biblically literate, Christ centered, gospel believing, soul-winning, spiritually sensitive, local church oriented, missionary supporting church.  With that in mind, Bro. Adams feels strongly that having a prayer life ministry is critical to church life and growth.  We do hope that we are a church where truth matters, being non-judge-mental, hard-working, God honoring, and loving toward others.
Sister Toni serves beside her pastor husband desiring prayer, a working church culture that reflects the vibrancy of heaven, sincerely loving relationships and inspiring environment where people's lives are transformed by the Lord.  She too, is a student of God's Words and loves to teach in the Adult Ladies Sunday School hour in a good humored personal and positive way.  Toni loves her Lord, husband, family, and church family, teaching, the choir and singing all in harmony and in one accord.  Together they are leaders with diverse experiences, and educational backgrounds and are committed to serving the Lord through His local church.  We all trust that this is what you also want and expect to see.  If so, come and join with us won't you?